No comments
FHFA Report published in May 23, 2012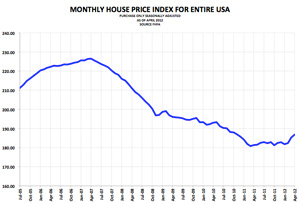 For the ones who don't know, FHFA is the U.S. Federal Housing Finance Agency and it regulates Fannie Mae, Freddie Mac and the 12 Federal Home Loan Banks. These government-sponsored enterprises provide more than $5.7 trillion in funding for the U.S. mortgage markets and financial institutions. Click on the image on the left to enlarge the chart.
U.S. house prices rose modestly in the first quarter of 2012 according to the Federal Housing Finance Agency's (FHFA) seasonally adjusted purchase-only house price index (HPI). The FHFA HPI was up 0.6 percent on a seasonally adjusted basis since the fourth quarter of 2011. The HPI is calculated using home sales price information from Fannie Mae and Freddie Mac mortgages. … FHFA's seasonally adjusted monthly index for March was up 1.8 percent from February.

Here are the key results released today:

1) The quarterly Q1 seasonally adjusted purchase-only house price index showed the first year-over-year (YoY) increase since 2007.

2) The monthly (March) purchase only house price index showed a larger YoY increase of 2.7% in March compared to a 0.3% YoY increase in February. This is the largest YoY increase since 2006.

3) The expanded data series showed a smaller YoY decline of 1.3% in Q1 (smaller than the 3.0% YoY decline in Q4).
Download the full FHFA Report in PDF
Thursday, July 12th, 2012 at 4:32 am and is filed under buying property in usa, NEWS. You can follow any responses to this entry through the RSS 2.0 feed. Both comments and pings are currently closed.