2 comments so far
In one of the last posts here at Buying Property in USA blog, I shared with you my file for keeping track of each individual investment property incomes/expenses and other data. There is one more file you will need though, if you have also founded an LLC and have a CPA (accountant) who is preparing your taxes. I have again just created an excel spreadsheet table for this purpose, nothing fancy. It can just save you a couple of hours figuring out the best way of keeping track of these numbers.
On the image below (click to enlarge) you can see the sample table: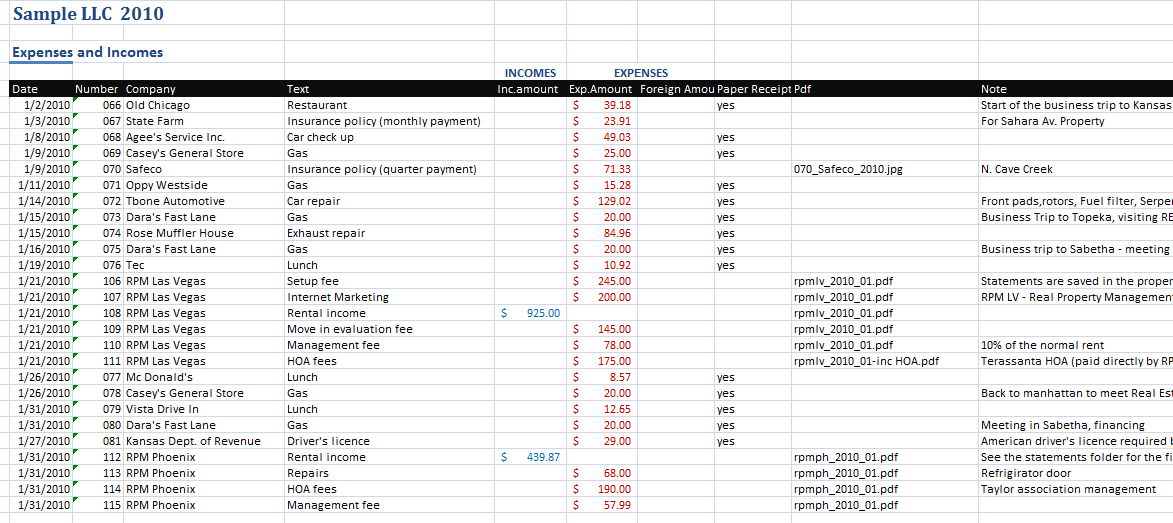 The columns are quite clear:
Date
Number (my internal numbering of receipts and records)
Company (name of the business)
Text (type of the income or expense)
Income amount
Expense amount
Foreign amount (if you purchased something in other currencies)
Paper receipt (if I have a paper receipt, I mark it here and I write the number of the record on the receipt – ie. 66 and store all the receipts for each year together)
PDF (if I don't have a paper receipt, I usually have some pdf invoice or screenshot from my internet banking – as proof of the expense or income). These are then saved in a separate folder and I send them to my CPA as well with this file.
Notes – my notes regarding the expenses, these can help me in the future to remember who I exactly had the lunch with, or where I went for the business trip. Also it helps the CPA to figure these out.
You can download the sample file here: tax_data_sample.xls
And that's it. It's pretty simple, as long as you don't forget to keep track of things. The best way is to put all expenses from receipts and incomes from statements in the spreadsheet every 3 months or so. When you wait longer, it will make it really difficult to remember everything. I have done this mistake the first year and it took me much longer to put everything together – to find the receipts and invoices etc.
Hope this helps all of you guys, buying a house in USA and using LLC for this matter.
Monday, June 13th, 2011 at 3:27 am and is filed under buying property in usa, General Education. You can follow any responses to this entry through the RSS 2.0 feed. Both comments and pings are currently closed.
2 Responses to "Keeping track of expenses and incomes for your accountant (CPA)"
Posted by Jack

14th October, 2011 at 2:36 pm

Hi! I've been reading your blog for a long time now and finally got the bravery to go ahead and give you a shout out from Huffman Tx! Just wanted to mention keep up the good work!

Posted by Warren

1st May, 2012 at 10:00 am

Good stuff, I have very much the same excel – but I have included loan repayments and property depreciation.