10 comments so far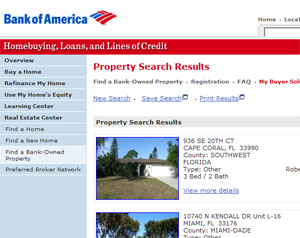 It's already few months ago since I have started to think about buying property in USA. First I was looking for forclosures on craigslist, however it wasn't such a great source. After some time I found out that actually the best websites to look for cheap houses are the actual banks websites. Almost every bank has many REO's at the moment. For anybody who doesn't know what REO means, here is definition from wikipedia: Real estate owned or REO is a class of property owned by a lender, typically a bank, after an unsuccessful sale at a foreclosure auction. A bank will typically set the opening bid at a foreclosure auction for at least the outstanding loan amount. If there are no bidders that are interested, then the bank will legally repossess the property. As soon as the bank repossess the property, it is listed on their books as REO – Real Estate Owned – and is categorized as an asset (non-performing). The best thing about REO's is that since Banks are not Real Estate agents, they don't want to make a profit from selling the REO's. They just want to get the unpaid rest of the mortgage and therefore they often offer the whole houses for the price of few mortgage payments. If the housing market would be normal, you wouldn't even hear about such a REO's, since they would be already gone and some Realtors would be selling them with a big profit. However nowadays there are thousands of REO's and foreclosures and nobody wants them. That's why you can find incredible deals around.
Today I am posting here one important and motivating link:
Bank of America REO's search: bankofamerica.reo.com
Don't hesitate and try to search some of the hundreds of incredible deals. There is 330 properties just in Florida. Try to limit the search for properties up to $100 000. You will be surprised how many you will find even for less than $50 000. My heart is always starting to beat faster when I am looking at those deals. If you like this link, let me know your comments and I will be happy to provide you more information and answers! I will be posting more websites for your market research soon. Now just get motivated!
Tuesday, February 24th, 2009 at 8:37 pm and is filed under buying property in usa, General Education. You can follow any responses to this entry through the RSS 2.0 feed. Both comments and pings are currently closed.
10 Responses to "Motivation day: Bank of America REO's"