3 comments so far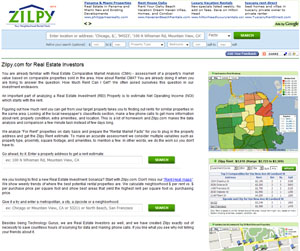 Before buying property in USA, you have already done research of cheap REO properties on Bank of America's website, then you have reseached prices in a particular location using Trulia.com, but you still need more information to be sure that the particular property will be a good investment. For this you have to find out what will be the rental yields and net operating income (NOI) of the property. Rental yield is a rent collected for the whole year less all expenses connected with owning your property. It is expressed in percents and it will help you to estimate your Return on Investment (ROI). To find out this marked data you would either have to go through local newspapers and look for all the "For rent" ads in the area and for properties with a similar number of bedrooms, bathrooms etc. That would be really hard, right?
And here comes the new great tool, called ZILPY (www.zilpy.com). Zilpy is providing free Rental Comparative Market Analysis with data gathered from variable sources and it enables you to find rental yields of properties in your location, with similar square footage, amenities and property type. Go to the zilpy.com and select Investors section. In the search field type the location address, zip code or city (i.e. "247 N. Capitol Ave.,San Jose, CA  95127"). Here is the page which comes out: http://www.zilpy.com/US/California/Santa_Clara_County/San_Jose/Zipcode_95127/247_N_Capitol_Ave/0,0,1,0,0,0,37.36827,-121.8414,0,0 What important data can you find here? Well most important are the median rents for your type of property. In the left top module, you can choose "Single Family Home", "Duplex", "Appartment" and then also number of Bedrooms or Bathrooms. Click on UPDATE and see what Zilpy finds as a best fit to your specification. Then you can see pretty well what could be the expected rent!
Another important data are below in the Neighborhood information. You can see there the vacancy rate, renter occupied percentage (important), household income etc.
Hope you will like this great tool. I have many more tricks and tools ready for you! So bookmark this blog and stay tuned. More is coming next week!
Wednesday, March 18th, 2009 at 3:00 pm and is filed under buying property in usa, General Education. You can follow any responses to this entry through the RSS 2.0 feed. Both comments and pings are currently closed.
3 Responses to "Rental Yields & NOI – How to explore them?"
Posted by June

18th January, 2010 at 4:34 am

I find your blog is very informational. Can I ask you why the renter occupied percentage number is important? What does it tell me? Thanks!

Posted by admin

19th January, 2010 at 4:24 pm

Hi,

it's better to buy an investment property in a neighborhood with lower renter occupied percentage. The reason is that you will have smaller competition on the rental market in the mainly owner-occupied community. There will be just a few rental units maybe and also usually the community and houses will be in better shape when occupied mainly by owners.

Hope it helps!

Posted by June

23rd January, 2010 at 7:25 pm

Cool. Thanks!