6 comments so far
Wall Street Journal, Real Estate, July 7, 2011
Vacancies … fell in 72 of the 82 markets during the second-quarter vacancy rate to 6%, the lowest since 2008 and compared with 7.8% a year earlier, according to Reis. […]

The average effective rent, the amount paid after discounting, was $997 in the second quarter of the year, up from $974 a year earlier  […]

Landlords filled a net 33,000 units in the second quarter, a slowdown from the 45,000 units they filled in the first quarter.  […]

Meanwhile, supply remains constrained. Roughly 8,700 new apartment units opened during the second quarter, the second-lowest quarterly tally for new completions since Reis began collecting data in 1999.
A few key points: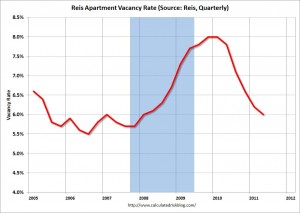 Vacancy rates are falling fast (the excess supply is being absorbed). Note: The excess housing supply includes both apartments and single family homes.
A record low number of multi-family units will be completed this year (2011). Only 8,700 apartments came on the market in Q1 (in the Reis survey area). This is the second lowest quarter since Reis has been tracking completions – the lowest was 6,000 last quarter.
The falling vacancy rate is pushing push up effective rents. This also pulls down the price-to-rent ratio for house prices.
Wall Street Journal Article Link
Monday, July 11th, 2011 at 7:39 pm and is filed under buying property in usa, NEWS. You can follow any responses to this entry through the RSS 2.0 feed. Both comments and pings are currently closed.
6 Responses to "Rents Rise, Vacancies Go Down"