14 comments so far
As I promised in earlier post at Buying Property in USA blog, I have calculated price to rent ratios and gross rental yield of all the US states. I am currently writing an article with more details how I exactly got the numbers etc. However for the most of foreign investors is interested mainly in this table:
I have also found a table of P/R ratios for various European states. That table is quite a bit older and it's hard to compare it to my calculations from 2010, but still it is visible that most of the other countries have quite worse rental yield than USA.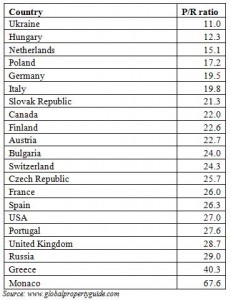 I haven't calculated rental yield for Australia, but I am pretty sure it's quite low as well. If you guys know the rental yield and price to rent ratio for Australia, please post it in the comments!
EDIT: I have written a detailed article about calculating the Rental Yields and where I got the data, etc. : http://ezinearticles.com/?Price-To-Rent-Ratio-(Rental-Yield)-for-All-US-States—Real-Estate-Analysis&id=5904389
Friday, February 11th, 2011 at 12:43 pm and is filed under General Education. You can follow any responses to this entry through the RSS 2.0 feed. Both comments and pings are currently closed.
14 Responses to "Price-to-rent ratio and Gross Rental Yield in USA"