7 comments so far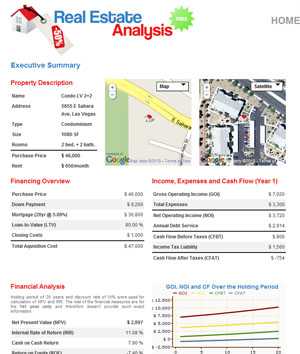 I am glad to finally announce my project I have been developing for almost a year now. I have developed a real estate investment software. A year ago, I was looking around for some free solutions, when doing real estate analysis of potential residential investment properties and I found out that the free solutions on the internet are really crappy. What more, when I reviewed the expensive paid online tools, they were having some major drawbacks as well! I have spent hundreds of hours on this project, but finally I can introduce it to you guys first – readers of my blog, that the work is complete and first version is available for you to test and use. This will always stay free for people. I have developed it mainly for myself anyway, but since I have spent so much time on it, I want people to use it too.
I have also spent quite lot of time on reviewing the other real estate investment software tools online, and I can proudly say that my software far exceeds the characteristics of its competitors.
The main features are:
It's totally free and always will be! ;o)
It's high user friendly – I am using latest programming techniques and languages – AJAX, flash, etc.
It provides many different ratios and charts – but also the really sophisticated ones, like NPV, IRR etc
If you register, you can save multiple properties and compare them together
You can see the free property report online and also export it and save it as PDF (or email it)
So please don't hesitate and go to RealEstateAnalysisFREE.com and try to analyze your potential property. It takes about 5 minutes! I will very appreciate any feedback from you guys – either in the comments here or on the Real Estate Analysis website – in the feedback area.
Thanks and I hope you will enjoy this one.. ;o)
Monday, October 18th, 2010 at 9:36 am and is filed under General Education. You can follow any responses to this entry through the RSS 2.0 feed. Both comments and pings are currently closed.
7 Responses to "Real Estate Analysis FREE"