2 comments so far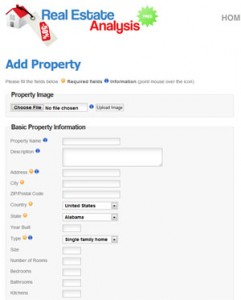 As you all probably know, I am the author of a free property analysis tool called Real Estate Analysis FREE. I am happy to announce some new features which I have been developing in the past few months. As always, this tool is free for anybody and I will be just happy if more people will be using it, instead of paying the crazy amounts for the commercial real estate investment software. I am trying to make this tool better and better in my free time, so if you have some suggestions for new features or changes, just let me know, and I will try to add them in the new release! So are you wondering what is new in the second version of the real estate analysis free software?
I have been working on the following things:
Optimizing the whole application to make it work and crunch the data faster, I have almost doubled the overall speed of the software!
I have created new financing options – mainly the so called "Creative financing" – which includes balloon payments, interest only financing, refinancing after a certain amount of years.
You can enter Rehab costs into your investment – this will be used only in the first year of operation, and you can choose if and how the rehabilitation will influence the value of the property (this is very useful for fixer upper strategy)
Expenses and incomes can be now entered not only as annual values, but also as a percentage or monthly amount
50% Rule – introduced at BiggerPockets Forum, it's a great way for investors to estimate the expenses and check the overall investment
Social media sharing! Requested feature by some of the investors. Facebook, Twitter and Email sharing of the property analysis reports is available!
I have also added social sharing on the main page of Real Estate Analysis FREE, so people can easily share this tool among their friends on facebook and twitter. I want people to find out about this free app and so, if you like the tool, please press the facebook "Like" button, or "tweet" button – to tell about Real Estate Analysis FREE to your friends. You can even become fans of the facebook page. I would never ask for money for the tool, but this is something which would really help me to spread the word around. I appreciate it if you "Like" Real Estate Analysis FREE!
Visit: http://www.RealEstateAnalysisFREE.com
Btw I moved to Australia, I know that lot of you guys reading this blog are Aussies! 😉
Friday, March 11th, 2011 at 11:57 pm and is filed under General Education. You can follow any responses to this entry through the RSS 2.0 feed. Both comments and pings are currently closed.